Drinking water treatment plants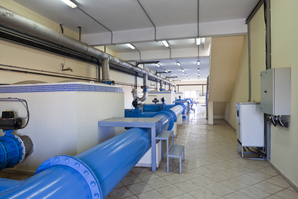 Water resources are usually very diverse (deep wells, rivers, dams, etc.). Besides, many other factors such as soil composition and climate, causes a great diversity of types of water to be treated. All this means that we find a great variety of water characteristics that demand a spe-cific design of the treatment plant.
In Drinking Water Treatment Plants (D.W.T.P.), raw water goes through a series of process in order to remove substances that may be harmful for human consumption. It is also required that the product meets the standards adopted in the country.
In TERSAQUA we develop and operate Drinking Water Treatment Plants in which we adapted our knowledge to client needs. For this purpose we use all the available technologies in the market.
ACTIVITIES OF TERSAQUA IN DRINKING WATER:
Design, construction and operation of DWTP. Turnkey projects.
Operation of existing DWTP.
Audits of operating plants.
Energy Optimization.
Rehabilitations.
Study of treatment options depending on the quality of the raw water to be treated.
Enlargements of the capacity of existing DWTP.
Design and construction of complementary treatments for existing plants.

Activated carbon.
Ozonization.
Sludge treatments.